Senator Ron Johnson is an Oshkosh manufacturer who spent more than 30 years creating jobs and solving problems in the private sector. He's bringing his outsider's approach to help Wisconsinites keep more of their paychecks and protect our local communities from threats to our national security.
In 2010, Ron ran for the United States Senate, defeating 34-year career politician Senator Russ Feingold in his first race for a political office.
Now, as chairman of the Senate Committee on Homeland Security and Governmental Affairs, Ron has focused on finding areas of agreement to take on Washington dysfunction and get results for Wisconsin. He believes Wisconsinites deserve to keep more money out of their paychecks rather than send it to the bureaucrats in Washington.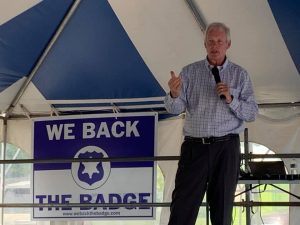 Ron is focused on growing our economy and creating good jobs and economic opportunity for all, which is why he supports pro-growth tax reform and reducing burdensome regulations.
He's also standing with Wisconsin farmers, manufacturers, and families against the EPA's water rule to regulate small ponds, ditches, and creeks on private property, affecting 92 percent of the land in Wisconsin and driving up costs and killing jobs due to added government regulation.
When it comes to national security, Ron helped pass a law through Congress to keep terrorists out of the U.S. by reforming the visa waiver program our enemies could use to slip into our country.
Ron resides in Oshkosh, Wisconsin with his wife Jane. They have three children and two grandchildren.
Ron Johnson Senator from Wisconsin (senate.gov)
Congressman Tom Tiffany represents the 7th Congressional District of Wisconsin. Rep. Tiffany was elected in May 2020 in a special election for the seat.
Prior to his election to Congress, Rep. Tiffany served in the Wisconsin State Assembly and State Senate for the 12th District. He was a member of the Joint Finance Committee, which is responsible for the state's budget, and served as chairman of the Senate Committee on Sporting, Heritage, Mining and Forestry. During his time in state legislature, Rep. Tiffany worked to cut taxes, increase job creation, defend the rights of the unborn, and protect 2nd Amendment rights.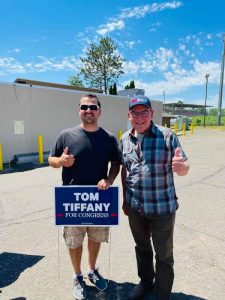 Rep. Tiffany has deep roots in the 7th District. He grew up on a dairy farm near Elmwood, Wisconsin and graduated from the University of Wisconsin – River Falls, with a degree in agricultural economics.
Rep. Tiffany is honored to represent the people of Northern and Western Wisconsin by restoring freedom to create a more prosperous America.
Representative Tom Tiffany | Representing the 7th district of Wisconsin (house.gov)