THE REPUBLICAN PARTY OF CLARK COUNTY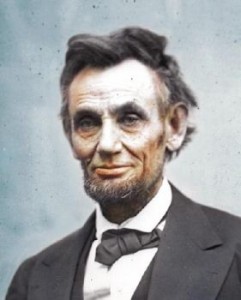 The Republican Party of Clark County (RPCC) is a unified body of citizens who have come together to defend and reclaim the virtues of our republic. It is clear that our republic is under assault by persons who do not hold the same values that we hold. We believe that by presenting a united front we can reclaim the principles that the founding fathers established.
"United we stand, divided we fall" Abraham Lincoln.
We encourage all conservatives to join us as we move to take back the political ground that we have given up in recent years. We know that the majority of Americans still hold the traditional values of faith, family and freedom that are the foundation of our republic.
Republican Party of Wisconsin – Republican Party of Wisconsin (wisgop.org)
Help us make it stronger…. (clarkwisgop.com)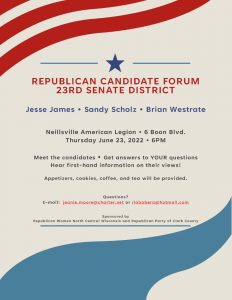 It was an incredible weekend, lots of enthusiasm & excitement for where our party is going. There is a lot of concern about our economy and leadership. 2022 will be ok for most businesses, people are still spending and moving the economy forward but 2023 is a real concern as we haven't corrected or resolved what is going on yet to offset the state's budget woes. Having a Republican Governor after the November election is going to be critical as well as having a legislature that will work with the Governor. The legislature passed 123 bills that the Governor vetoed, we need to get things done to recover and we can do this if we win this election. There are a lot of good and it is fun and exciting right now because we have so many awesome candidates willing to put their heart and soul forward and make a difference in the process of governance.  We have awesome candidates and it's exciting to be part of the process. There may have been collusion to establish a "no endorsement", but part of that could be blamed on the Republican Party and the timing of the Primary and Convention. The administrative Executive positions: the Lt. Governor, Secretary of State, Attorney General, those are critical positions, and we have awesome candidates.
If there is no clear-cut winner in August and the courts get involved and tie that up for quite a while, that will give Tony Evers more opportunity to succeed in November, so hopefully the electorate will get behind a candidate and establish a clear winner. All candidates should utilize their current resources and establish a grass roots push without being disrespectful and disgraceful to other candidates because it is not going to help us win in November, and we don't know what candidate will end up on top. If you look at the issues discussed: Roe v. Wade, Tax & Regulation, Election Integrity and education policy, there wasn't a lot of variances between what's important, it's a matter of who you like, and who you feel can get the job done. It was a great Convention with 1300 people, the largest ever. This is not a time to create division within our party, now is the time to unite and be respectful to who we elect in August and move this state forward.